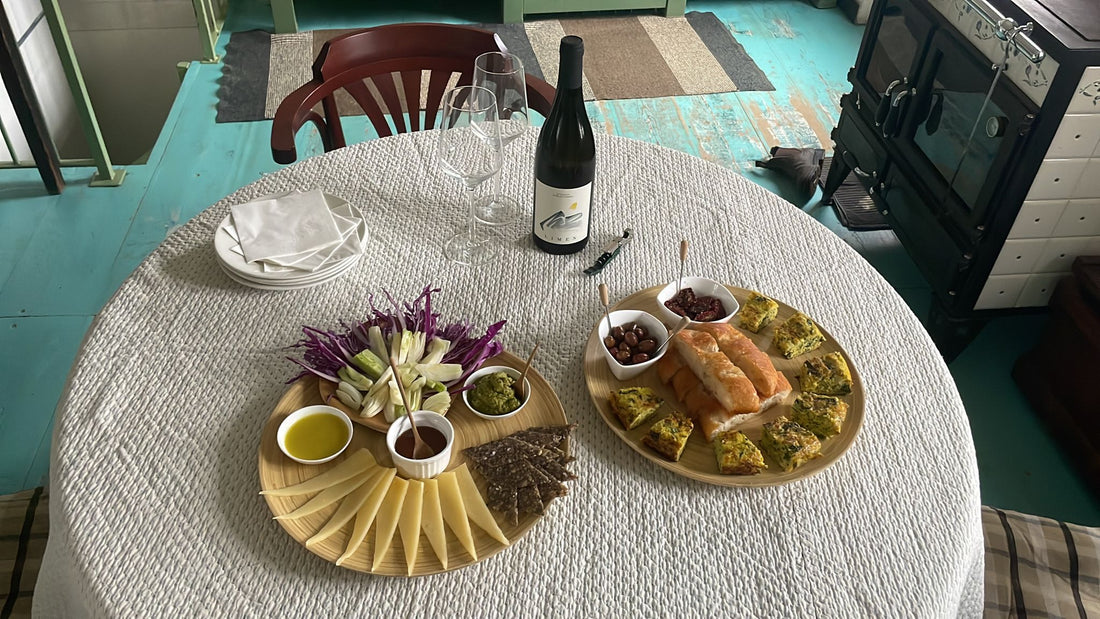 Come by and say hi!
You can find us along trail number 593 (part of the SVA trail), high above Riomaggiore, between the "Santuario di Nostra Signora di Montenero" and the "Colle del Telegrafo". We're only reachable on foot!

It is possible to participate in wine tastings and tours of the farm, but only if booked in advance. The price is 45€ per person.

NB: You can also just walk by without reservation and just try a glass of wine with some snacks, the price will be 10€. No reservation is necessary.
Stella di Lemmen is an organic and biodynamic farm located in a ancient rural settlement, Lemmen. It rises out of the Ligurian Sea on a small high plain and its main occupation is viticulture.

Our project began in 2015, on a patch of land previously left untouched and uncultured for 50 years, and works in full respect of organic agriculture regulations and biodynamic agriculture teachings. This means limiting human intervention to the necessary minimum and completely renouncing the use of synthetic substances, in order to let the soil develop and the plants grow in the most natural way possible.

We cultivate local varieties such as Vermentino, Bosco and Albarola for white grapes as well as Granaccia (Grenache) and Canaiolo for red grapes.
The vineyards are complemented by olive trees and a huge variety of fruits (among them, many ancient and often forgotten varieties), vegetables, herbs and flowers. Our bees produce 3 varieties of Mediterranean honey.

Work is still in progress: the long-term aim of the project is to requalify and protect this charming corner of Ligury, which is part of the Natural Park of the Cinque Terre, Italy.
The farm is located in the hills above Riomaggiore and is NOT reachable directly by car.
On foot, you can hike directly from the town following the directions for Santuario di Montenero first and then for Telegrafo/Portovenere. The hike is about 1 hour long, you can then continue on the same trail until you reach Portovenere (about 3 more hours).
If you have a car, you can either park on the coastal road (search for "Parking SP370" on Google Maps) and then walk 15 minutes up (the path starts on the other side of the road!), or drive all the way up to the Colle del Telegrafo (search for "Telegrafo Riomaggiore"), park there, and then walk about 10 minutes down - just remember that you have to return the other way!
If hiking is not for you, the bus from Via Colombo, Riomaggiore, will leave you near the aforementioned parking. From there you can organize with Stella di Lemmen to be picked up for an extra cost of 15€ and brought to the farm with the monorail.
How many people can participate and how much does it cost?
A maximum of 10 people can attend the tour at the same time. The price is 45€ per person.
Two time slots are currently available: 11 a.m. or 3 p.m. Opening days are Monday, Thursday and Saturday, but may vary or make exceptions for large groups.

How long will the tour be?
The whole experience will take about one and a half hours. You will start with an extensive tour of the farm and then follow up with the tasting.

What does the tasting include?
You will sample 3 different wines, accompanied by some local snacks like focaccia, cheese, honey, olives. You can also add a glass of Sciacchetrà, the famous local sweet wine, for 15€.

If you wish to skip the tour and just enjoy a glass of wine with some snacks, the price will be 10€. No reservation is necessary.

Will I be able to purchase the wines and other products?
Buying wine is possible on site. You can either take the bottles with you, or arrange a pickup in the following days (if you have a car), or take advantage of the shipping service if you wish to buy larger quantities but cannot carry them in your luggage.
Depending on availability, you will also be able to purchase honey, herbal teas, saffron, olive oil, essential oils as well as fresh eggs and vegetables, all produced on the farm.
Email address: info@stelladilemmen.com
Phone number: +39 347 0972039
Follow our work in the vineyard and in the garden on Instagram @stelladilemmen and read everything about the land, the plants and the people in their blog, at stelladilemmen.tumblr.com.